Living the faith for the past 35 years.
Back in 1985, our organization made a humble beginning from a 200 sq. ft. tiny room, making one leg a month. Today we help over 350 people walk again every month. We are inspired by people's indomitable optimism, to serve the underprivileged with dedication and devotion, commitment and care, offering treatments that change lives.
Many milestones have been crossed but a lot more are to be achieved. Friends, I am confident that as ever, you will extend your kind co-operation and shower your blessings to make our cause gain strength and success. We are looking forward to receive your liberal contribution by way of sponsorship for cultural events, service projects, artificial limb camps, advertisement in souvenir or any other way you think fit and proper. Your gracious contribution will go a long way in changing the lives of thousands of people.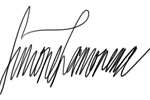 Shri. J.S Mehta,
President Emeritus
We strive to offer social rehabilitation of physically challenged people, enabling them to regain their dignity and self respect and to bring them in the main stream of the society.